Tornado (storming your way to success)
Tornado
- A Home based opportunity
Tornadoes are the nature's most voilent storms and here we believe in "storming
your
way to success".
We believe efforts are directly proportional to success
and most people put in their efforts to make
others
rich while they themselves usually get peanuts.
Now is the time to make your efforts count. Be your own boss and work for your own self.
stop living on peanuts, get what you deserve.
How would u feel, if someone tells u that u can actually start your own business without investing your precious time and money into it ?
It feels gr8, I know, thats how i felt when i first came to know about this huge oppurtunity.
let us first count a few benifits that 1 gets :
* Home comfort (flexibility) - No alarms, no dress code, no rush....just relax take ur time, get in the mood, work when u feel like working, wherever u feel like working & whichever way u feel like working
* No Bosses to deal with - U r ur own Boss
* No Commutation time - U can actually utilize the time that you waste in commuting to work daily twice a day in making your business grow.
* no investment - U can start for free
* Options - do it fulltime or parttime depending upon your availability
* true freedom - take leaves, time offs whenever u want, no need to apply for leave 15 days prior and still end up not getting it.
* Most importantly - u can build your own business without leaving your present job and without having to go through the stress associated with building up a business (set up costs, insurance costs, salaries, training costs, and earning your living till u actually start making profits)
So if u have the Zeal to make it big I will provide u with the platform. Visit our website http://www.ourebiz.net/index.php?lid=11444 and submit a call back request. One of my executives will get back to you in no time.
or you can contact me directly
Rajat Gupta
Write review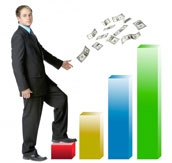 Tornado (storming your way to success)
Write review
Leave your comments on this ad
Offensive messages and spam will be removed