Study in italy at istituto europeo di design
Published: November 23 for
Anonymous
Istituto
Europeo di Design ?
italy
, Spain and Brazil
The Istituto Europeo di Design (IED) operates in the fields of training and research, in the disciplines of Design, Fashion, Visual Communication and Management from 1966. The school is spread around twelve cities in Italy, Spain, Brazil and China and offers more than 500 courses (three/four-year undergraduate courses, master courses, one-year courses, summer and advanced training) in English, Italian, Spanish and Portuguese.
Admissions open for IED Master Courses for 2013
study
Design with one of the worlds most prominent Design Institute
The arrival of 2013 is a great opportunity to update your career and apply for one of the Master Courses at IED in Italy, Spain and Brazil starting from November 2012 to June 2013.
The IED Master Courses are targeted to those of you who want to be successful in the Design, Fashion, Visual Communication and Management fields.
"Istituto Europeo di Design" (IED) has a rich master course catalog that stands out for the quality of education, the prestige of teachers and the high percentage of internships and job placements for post-graduate students and
professionals
that want to update their career.
Master courses are offered at the following locations. To know more click on the link given below
? Milan
? Rome
? Turin
? Como
? Venice
? Florence
? Cagliari
? Madrid
? Barcellona
? São Paulo
Applications are invited for summer 2013 Intakes. Click here to receive more information about the courses and scholership on offer for international students.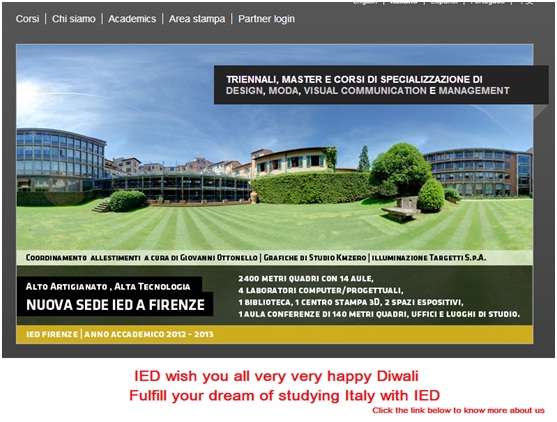 Study in italy at istituto europeo di design